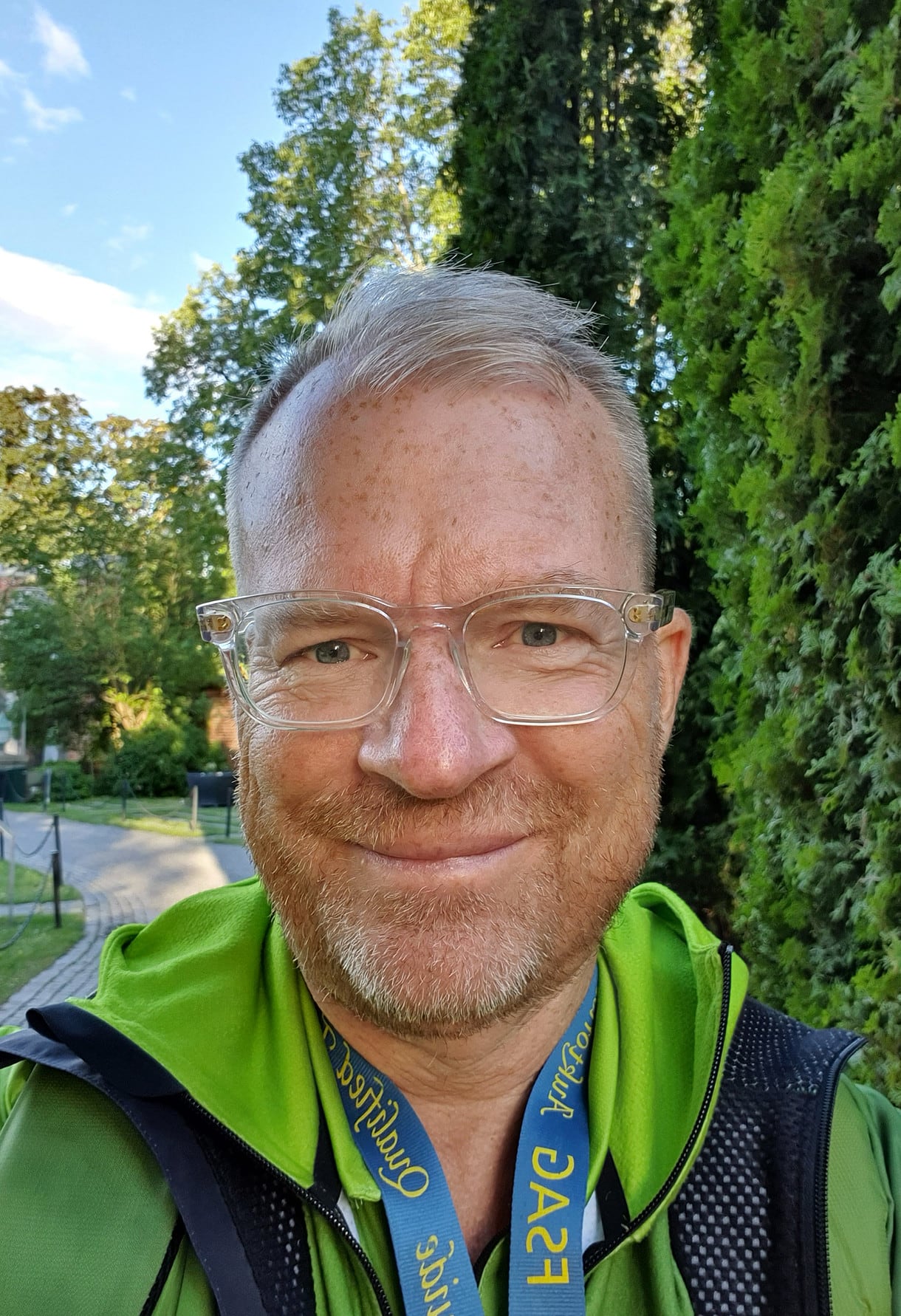 Me Stefan Maurbakken, I was born in 1963 in Västerås. When I was four years old I really wanted a big brother, so my parents got me a green parrot to make up for it. We named him Charlie. We thought it was a male. Years later, a veterinarian informed us that Charlie is actually female. 
Now I wanted to be a magician. I got to perform my magic tricks for my girlfriend's family in Åsta, and that was what gave me my first experience of Stockholm. 
I remember in particular we took the lift up to Slussen and I used my green spade to reach the elevator button, that's how little I was (and only 5 years of age). 
When I turned twelve, I was gifted every boy's dream - a model railway. I created an early fantasy landscape with green meadows and high mountains for my steam locomotives and carriages to traverse. Many years later, when I traveled on the Bernina Express in Italy, I felt very at home. 
My very first job was distributing the local newspaper early in the morning. I later worked as a postman, bingo assistant and foreman. But it was the service industry and meeting people that would appeal to me most. 
In the spring of 1987, I traveled to Cyprus to begin my career as a tour guide. Four months later I was riding a camel among date palms and pyramids in Cairo. My interest in history and archeology began to awaken.

In 1988 I traveled to Taormina and Sicily where I learned to enjoy coffee and wine, among other things. A few years later, I worked in Rome - the Eternal City. I stayed in the capital for over 20 years.
 
But one day, I made the decision to move back home - I was offered a job in travel production with Temaresor, where I would be working towards the Italian market. It was too good to refuse.
It was not until 2017 that I dared to leave my full-time job and try to make it on my own. I've never looked back. Being able to work for myself gives me so much more.
 
I wanted to attract Italian tourists to Sweden, and I wanted to offer a more sustainable way of traveling. City walks and bike excursions, and excursions using local means of transport.
During the pandemic year of 2020, I expanded the program with several new hikes, and I now also offer bicycle, food and nature based walks. 
In July 2021, I chose to put the business on hold for a few months. I went to Jukkasjärvi to
work as a waiter at the ice hotel there. The great draw here is the proximity to nature, the Sami culture and the tranquility.

The desire to discover new environments in Sweden is very much alive. Both for Swedish and foreign tourists. We have a unique nature, untouched landscapes, in a sustainable, innovative and caring society.
 
When we travel, we want to feel safe and secure. We choose to travel outside the high season to leave less of a footprint. We make conscious choices. We search for locally grown, organic, environmentally friendly and green products.
 
I have now left the capital and moved back to Västerås, my hometown. Now it is my time to give something back to the city. But I will still continue to develop myself and my products in both Stockholm and Västerås.
 
It's time to think green!
©2023 Den gröna guiden by VerdeVerde Travel